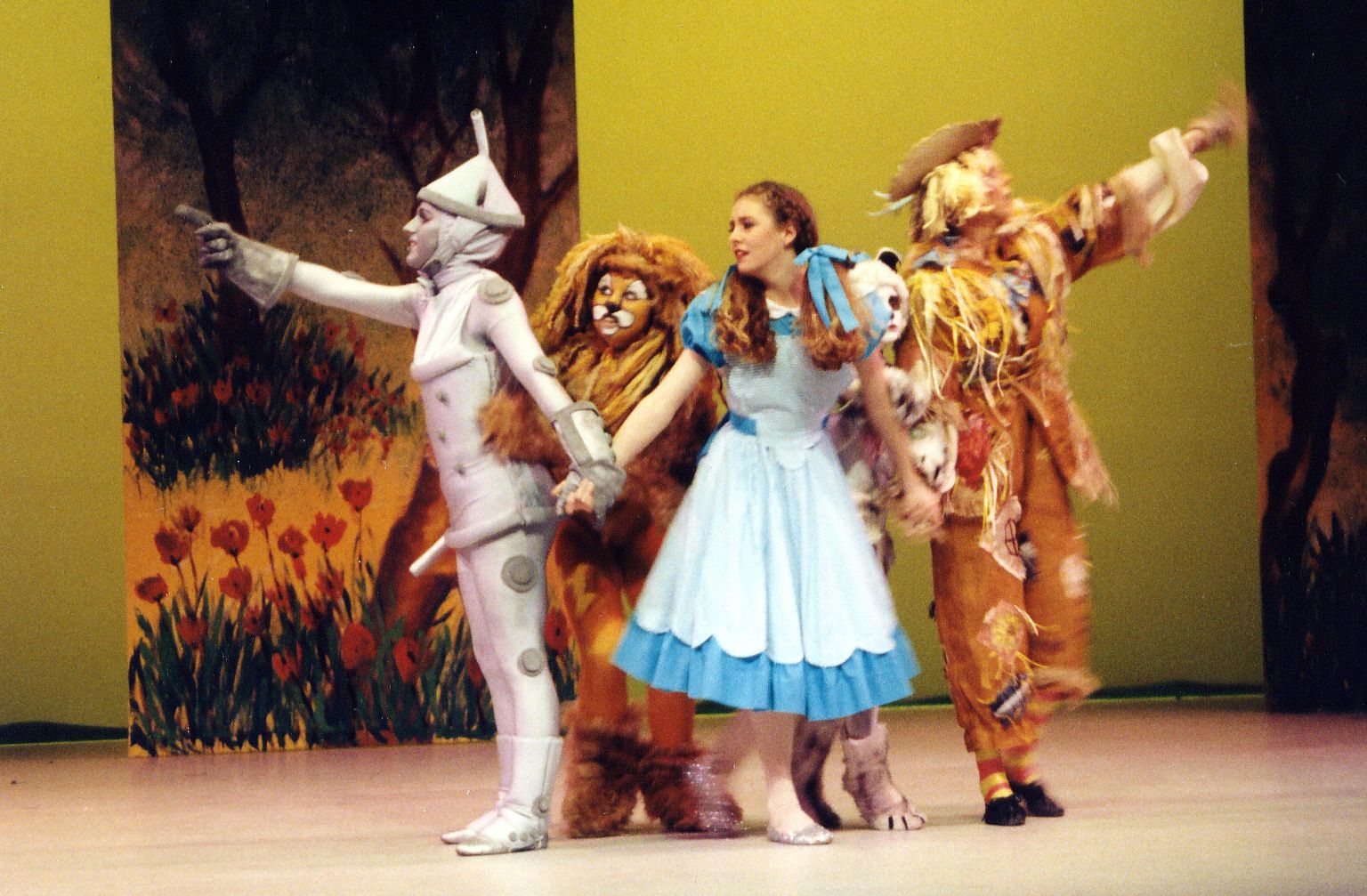 The Wonderful Wizard of Oz
January 14th, 1998 — January 17th, 1998
1998 WIZARD IN BALLET
Review by Olivia Stewart
The imaginative, fantastical world encountered on the journey down the yellow brick road has made The Wizard of Oz a perennial favourite across generations.
MGM's classic musical holds many memorable moments and images, and last year's The Wizard of Oz on Ice lavishly brought the story to life.
The unfunded youth Ballet Theatre, working on a much more modest scale, has sought to distance itself somewhat from comparisons by returning to L. Frank Baum's original book, The Wonderful Wizard of Oz.
A nice touch is the addition of Dorothy's visiting Australian great-niece Judy (likeably performed by Judy Hainsworth), who serves as narrator after discovering Dorothy's diary of her adventures.
As we have come to expect from Ballet Theatre, the costumes and design are vividly realised, ranging from cute (mice and spotted-mushroom munchkins) to elegant (the wicked witch of the west and her stylised, enchanted poppies). However, there is nothing to match the beautiful transporting effect of Pinocchio's underwater scene or The Nutcracker's Snow Kingdom.
The lead performances are winsome – Rebecca Grennan has lovely expression and delightful jumps, and Connor Dowling, Rebecca Newsham and Kathryn Scott are appealing as the Scarecrow, Tin Man and Lion. It was disappointing, however, that Dorothy did not find herself en pointe after donning the magical (silver rather than ruby) slippers.
As in The Nutcracker, the technically accomplished Lauren Sosnowski is a stand-out, her imperious composure radiating a presence far outweighing her diminutive stature.
In his brief appearance as the Wizard, Trevor Green's assured showmanship is to the fore.
Overall, however, (set to music from a variety of uncredited sources) the choreography, using a limited repertoire of steps, fell short of capturing the colour, dynamic and energy we expect.
And as impressively well-drilled as these young dancers are, unpointed feet often spoil otherwise good classical lines.
The Courier Mail, January 16, 1998
Credits
Venue

Suncorp Theatre, Brisbane

Artistic Director

Louise Hellewell & Christopher Gillard

Choreographer

Louise Hellewell & Christopher Gillard

Guest Artists

Trevor Green

Costume Designer

Marie-Ann Grosskreutz

Scenic Designer

Max Hurley

Lighting Designer

Derek Griffin

Sound Designer

Jason Whiting

President

Marie-Ann Grosskreutz
Cast
Rebecca Grennan
Lauren Sosnowski
Claire Byrne
Karlie Burgoyne
Connor Dowling
Madeleine Rothwell
Rebecca Newsham
Kristie Keech
Katheryn Scott
Emma Case
Richard Kinley
Trevor Green
Susan Marquet
Judy Hainsworth
Courtney Greenway
Anna Donovan
Susan Duncalfe
Erin Oostenbroek
Antony Crome
Peter Crome
Tammy Marquet
Claire Peters
Janette Upton
Katrina Podmore
Elizabeth McDonnell
Jane Davis
Kobie Paulus
Erynne Gleeson
Jacquline Blaney
Tara Doherty
Sharna Nolan
Nicoel Border
Rebecca Downs
Elizabeth Kinley
Erin Swan
Cassie Kinnich
Emma Crocket
Amelia Hunter
Kathleen Crome
Tiffany Ingle
Courtney McIvor
Courtney Poulier
Amy Rowe
Angela Ryan
Kerri Webb
Amelia White
Image Gallery
Have any photos to share? Contribute here