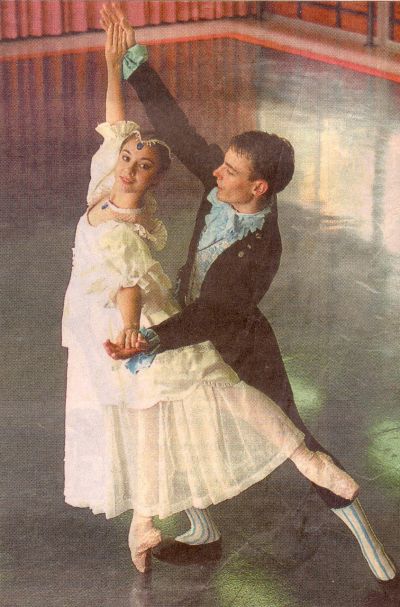 Cinderella
January 13th, 1999 — January 16th, 1999
CINDERS SLIPS ON SOMETHING COMFORTABLE
Review by Sandra McLean
When the audience applauds the entrance of a pumpkin, you know there's more to this production than what is on stage. When the applause keeps going at every dimming of the lights, you also know you're definitely among the performers' friends and family. It's a cosy feeling which continues into the lobby as former dance students catch up with their old teachers, such as Queensland Ballet dancer Michelle Giammichele, and remember their days with the Ballet Theatre of Queensland.
They talk of tradition, encouragement, and the opportunity to dance in a semi-professional production in a large theatre.
Keep these elements in mind when you're watching Cinderella. The Australian Ballet it is not – and nor does it pretend to be. Rather, BTQ offers us a glimpse of what our young dancers are up to. It also offers the dancers a rare chance to perform on stage, and this they do with relish.
One wonders, though, why so many young dancers are turned into flora and fauna (yours truly was once a leaf in a production!). In this show there is a bevy of plant and animal life – fireflies, dragonflies, a cat, bluebirds, a frog and foxes. Some poor souls are even embers!
All of them are kept very busy during the production, which brings us to the costumes. They are very busy indeed and a little too lavish in parts. In some instances, such as the ballroom and travellers scenes, the costumes seem overwhelming. Also the lighting was a little too dim in parts and some of the bridging scenes clumsy. This didn't bother the audience though; they applauded every move enthusiastically.
This is a very traditional reading of Cinderella and the lead role is danced with serene skill by Lauren Sosnowski. Unfortunately we had to wait way too long for her to do anything choreographically interesting but when she did she carried it out with aplomb. Ditto for Peter Crome as the Prince, who gets stuck into the fancy footwork only in the final few scenes.
Crome did well as he was a last minute addition to the cast after his twin brother, Anthony, both of them students at the Australian Ballet School, sprained his ankle. Also impressive was Connor Dowling, a former Tattersalls Club Dance Scholarship winner, who had the best technique by far.
Rebecca Grennan and Rebecca Newsham were suitably mean and nasty as the Ugly Sisters and they worked well together. Shane Weatherby, on loan from the Queensland Ballet, was excellent as the Baron, and skilfully led his less experienced stage fellows through the performance maze.
There is nothing new or overly dazzling about Cinderella, but it is one of BTQ's more impressive shows.
The Courier Mail 14 January, 1999
DEDICATION TO PAMELA COULTER
This production was dedicated to the memory of Pamela Coulter, former ballerina and loyal BTQ committee member for many years. The following Obituary appeared in Ballet Theatre News, May 1998, written by President Marie-Ann Grosskreutz:
"Members of Brisbane's dance community, and those of us with long associations with Ballet Theatre were saddened to hear of the passing of Pam Coulter earlier this year.
Pam was a Life Member of Ballet Theatre and a wonderful worker and inspiration for its young dancers. Pam studied ballet from age four and worked through the RAD syllabus eventually passing SOLO Seal. Her first professional appearance was with the Italian Opera Company in 1947. She later joined the National Ballet Company for two seasons and the Borovansky Ballet Company for three seasons. In 1958 she joined the Sadlers Wells Opera Ballet for a season and returned to Australia in late 1960, marrying her husband, Alan, in 1961.
Her active interest in Ballet Theatre then developed and she gave years of support to our Company. The Executive Committee have resolved to dedicate the Brisbane Season of 'Cinderella' to Pam's memory."
Researcher and writer: Dr Christine Comans
Credits
Venue

Optus Playhouse, QPAC 1999
Moncrieff Theatre, Bundaberg, 24 October 1998
Redcliffe Entertainment Centre, 31 October 1998.

Artistic Director

Louise Hellewell and Christopher Gillard

Choreographer

Louise Hellewell and Christopher Gillard

Guest Artists

Trevor Green
Shane Weatherby

Costume Designer

Max Hurley
Marie-Ann Grosskreutz
Bev McKay

Scenic Designer

Max Hurley

Lighting Designer

James Rothwell

Sound Designer

Jason Whiting

Music

Karl Davis, Riccardo Drigo, Aram Il'yich Khachaturian, Jules Massenet, Oskar Nedbal, Gioacchino Rossini

President

Marie-Ann Grosskreutz
Cast
Lauren Sosnowski
Rebecca Grennan
Antony Crome
Peter Crome
Trevor Green
Shane Weatherby
Jesse Bates
Connor Dowling
Claire Peters
Madeline Rothwell
Karlie Burgoyne
Rebecca Newsham
Jane Davis
Anna Donovan
Erinn Swan
Courtney Poulier
Jodie Miller
Kobie Paulus
Susan Duncalfe
Erynne Gleeson
Erin Oostenbroek
Emma Healey
Jacqueline Blaney
Fiona Jones
Nicole Border
Viola Wynne-Hoelscher
Melissa Copson
Kathleen Crome
Courtney McIvor
Romy Poulier
Melissa McGee
Tamara McKay
Dean Whitnall
Richard Kinley
Sarah Smith
Libby Swan
Amelia Hunter
Katherine Davis
Susan Muschalla
Luisa Burgoyne
Jacqueline Binchi
Elizabeth McDonnell
Tara Cobbe
Image Gallery
Have any photos to share? Contribute here