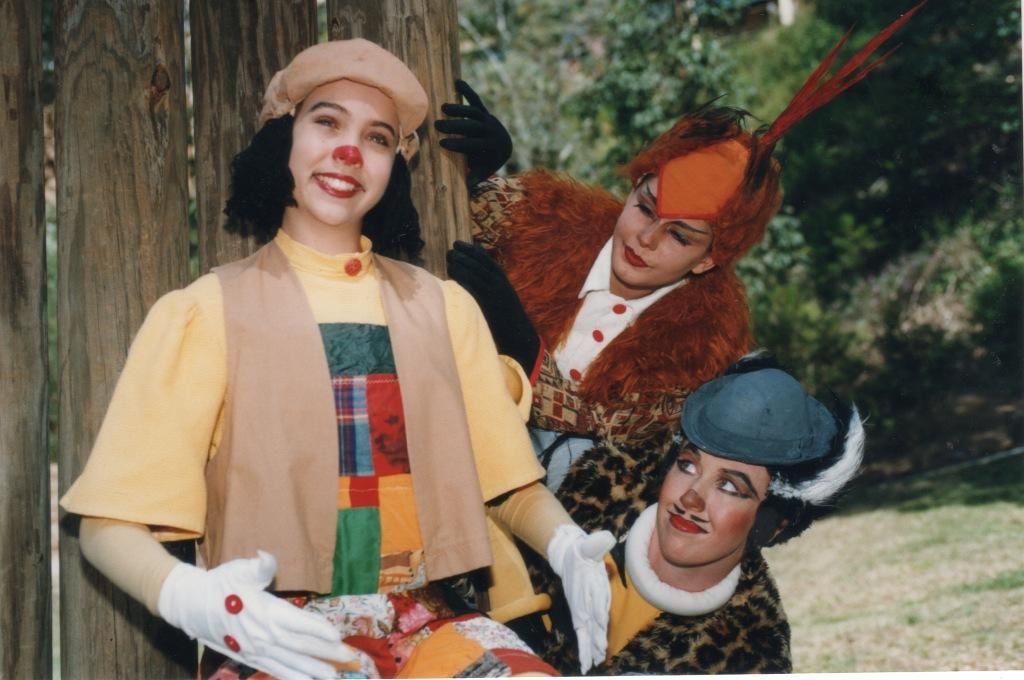 Pinocchio
April 10th, 1996 — April 13th, 1996
Pinocchio Pleases
Review by Olivia Stewart
Six months labours have gone into Ballet Theatre of Queensland's Pinocchio and the preparation has paid off.
A full length ballet performed by young dancers is a challenging undertaking but artistic directors Chris Gillard and Louise Hellewell's well-rehearsed charges comprise a disciplined and well-balanced company.
Seen initially on the Gold Coast, the production has now developed a greater unity in terms of group work and overall performance levels; when you think that there are 44 dancers aged between 12 and 18 on stage this is a particularly impressive accomplishment.
The story of Pinocchio, the mischievous boy puppet created by the old woodcarver Geppetto, is a familiar and simple one but it is packaged colourfully and with witty touches providing amusement for adult audience members, such as narrator (and Pinocchio's conscience) James A. Cricket.
Played stylishly by Douglas Broad, James the Older provides some delightfully droll observations aimed over the little ones' heads. Also a pleasure is the show's other adult member, the experienced Trevor Green as Geppetto.
Max Hurley's set and costumes make a striking visual impact, banishing any preconceptions of children's or "amateur" production values. The underwater sequence is particularly evocative, featuring a huge eye-rolling fish, fluorescent sea creatures and beautifully lit green-gowned dancers representing an ever-changing sea.
Pinocchio's leads are uniformly terrific, each bringing to their role exactly what is required; it will be interesting to watch the future progress of performers such as Madeline Rothwell, Rebecca Grennan, Rebecca Keating, Riannon McLean and Sarah Wharton.
Due to its expository nature, the first half is a bit slower than the second but the energy and the enthusiasm of Pinocchio's performers doesn't flag.
The Courier-Mail, 12 April 1996
Season 1996: Dedicated to the Memory of Jack Rodgers
Ballet Theatre of Queensland's 1996 season was dedicated to the memory of Jack Rodgers. He served on the Executive Committee in every major office including President and Chairman of Committees. But it was as stage manager, lighting designer and in technical direction that Jack Rodgers, the professional man of theatre, made his major contribution to establish the production standards which will remain his legacy to Ballet Theatre of Queensland.
Researcher and writer: Dr Christine Comans
Credits
Venue

Suncorp Theatre, Brisbane
Gold Coast Arts Centre, Jan 20
Gympie Arts Centre, March 2

Artistic Director

Christopher Gillard and Louise Hellewell

Choreographer

Christopher Gillard and Louise Hellewell

Guest Artists

Douglas Broad
Leslie White
Trevor Green

Costume Designer

Max Hurley

Scenic Designer

Max Hurley

Lighting Designer

Derek Griffin

Sound Designer

Jason Whiting

Music

Albeniz, Britten, Debussy, Fauré, Milhaud, Nedball, Offenbach, Ravel,Spalicek, R.Strauss

President

Marie-Ann Grosskreutz
Cast
Madeline Rothwell
Rebecca Newsham
Douglas Broad
Rebecca Grennan
Riannon McLean
Sarah Wharton
Eva Sorban
Trevor Green
Veronica Green
Rebecca Keating
Claire Byrne
Connor Dowling
Peter Crome
Antony Crome
Emma Case
Kathryn Scott
Tara Doherty
Katrina Podmore
Sarah Doble
Erynne Gleeson
Susan Duncalfe
Erinn Swan
Olivia Jackson
Andrea Bonelli
Elise Bagdon
Natalie Ball
Madeline Rothwell
Anna Donovan
Aiko Neligan
Claire Peters
Tammy Marquet
Zoe Haig
Mark Clayton
Katie Munt
Kristy Keech
Elizabeth McDonnell
Karen Ives
Emily McKay
Kobie Paulus
Danica Beckett
Lisa Murray
Louisa Dick
Rachel Eaton
Amina Taylor
Naomi McDougall
Rachel Marley
Elizabeth Kinley
Image Gallery
Have any photos to share? Contribute here