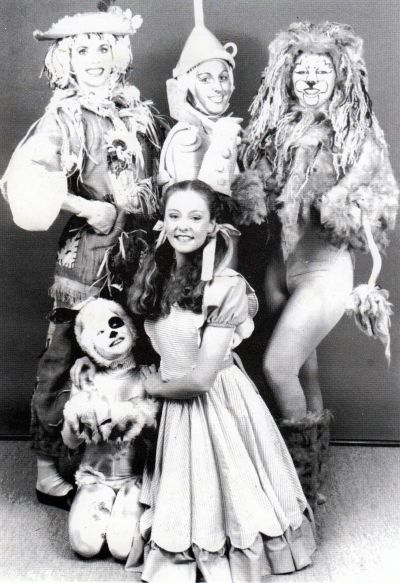 The Wonderful Wizard of Oz
January 18th, 1995 — January 21st, 1995
Wonderful Wizard a visual family feast
Review by Peta Koch
Ballet Theatre of Queensland has proved a valuable training ground for young, up-and-coming dancers for more than half a century. And although only a relative few end up making the grade in dance as a career or even wanting it, it gives students the chance to perform in a close-to-professional environment and dabble with the discipline of life on the stage.
This latest production continues the long-established tradition of excellence. This Wizard should have young audiences wide-eyed with wonder. Artistic Directors Louise Hellewell and Christopher Gillard have brushed the cobwebs off the classical tale and given it a more 90s feel without losing any of its intrinsic charm.
The choreography is simple enough to make the 45 dancers of various ages look good, yet is highly imaginative and avoids the trap of needless repetition. Most importantly, it develops the central characters of Dorothy, Toto, Scarecrow, Tin Man and Lion quite beautifully.
Being an amateur company it naturally has a tight budget but manages to unfold the visual feast that is Dorothy's adventure with often startling clarity and creativity.
The Courier-Mail, 21 January 1995
Credits
Venue

Twelfth Night Theatre, Brisbane 1995
Ipswich Civic Hall 12 Nov 1994
Redcliffe Entertainment Centre 27 August 1994

Artistic Director

Louise Hellewell and Christopher Gillard

Choreographer

Louise Hellewell and Christopher Gillard

Guest Artists

Christine Heath

Costume Designer

Jean Cayzer
Val White
Claire Hellewell
Kaylene Haig

Scenic Designer

Christopher Crome
Duncan Haig
George D'Arbe

Lighting Designer

Mark Phillips

Sound Designer

Jason Whiting
Cast
Emelia Jeffreys
Hanna Agnew
Christine Heath
Tarnra Trevitho
Joanne Hunt
Nicole Hemmings
Jacquelyn Meaney
Natalie Lindwall
Connor Dowling
Heidi Messer
Antony Crome
Peter Crome
Emily Mackay
Natalie Ball
Enessa Phillips
Madeline Rothwell
Claire Peters
Alessandra D'Arbe
Louise Phillips
Rebecca Keating
Natalie Duce
Michelle Eide
Anastasia Warnick
Jaclyn Lindsay-Smith
Shannon Saywer
Marc Clayton
Elizabeth McDonnell
Kobie Paulus
Eva Soban
Allison Mandrusiak
Rebecca Newsham
Rachael Marley
Karen Ives
Leah Cohen
Melanie Garfoot
Anna Donovan
Sarah Bartrillo
Annelies Waller
Rebecca Grennan
Natalie Lindwall
Tamnmy Marquet
Fiona Tucker
Zoe Haig
Image Gallery
Have any photos to share? Contribute here