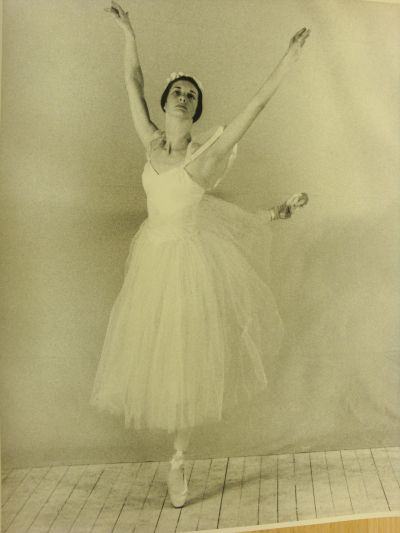 Les Sylphides, Graduation Ball, The Nutcracker ON TOUR
April 8th, 1962 — April 8th, 1962
BALLET BRILLIANT SUCCESS AT ROMA
Ovation followed ovation at the Hibernian Hall last Saturday as the Queensland Ballet Society's production of "Nutcracker" drew towards its climax; and then the glamorous and exciting finale produced a sustained roar of applause that surpassed any audience appreciation previously heard at Roma.
The people of the West really opened their hearts to the company that had given them three hours of glorious ballet that incorporated all the tradition and colour and beauty of this highest of theatrical arts. "Graduation Ball", "Les Sylphides" and "Nutcracker' on the one programme was something never to be forgotten.
The exquisite skill, technique and grace of the stars, Lexie Kunze and Kenneth Tillson particularly in the Grand Pas de Deux in "Nutcracker" produced an extraordinary demonstration of enthusiasm as the audience poured forth its gratitude for dancing that was exciting and memorable. ... but the star material did not end with them. Meryl Hughes, who was lovely in "Les Sylphides", and Kay Edgerton who was eager and dynamic, and Rodney Nation, who won the hearts of the audience with his rhythmic leaps and his entrechats, played essential parts in a performance of ballet that was outstanding.
And still the array of talent did not stop there. Those who saw the afternoon or evening performance will appreciate that in "Les Sylphides" they saw 18 other dancers of outstanding ability; this was understandable as apart from the professionals, most of the girls had their letters for ballet from the London Academy.
Undoubtedly the overall credit must go to the producer, Miss Phyllis Danaher, who produced miracles of precision with her ensembles. ... The three ballets were far beyond what the audience had expected; it was ballet of class, streamlined, faultless in timing and never a hitch in production.
Extract from the Roma review, April 1962.
Researcher and writer: Dr Christine Comans
Credits
Artistic Director

Lexie Kunze & Meryl Hughes

Production Director

Phyllis Danaher
Lexie Kunze

Guest Artists

Lexie Kunze - Borovansky Ballet
Kenneth Tillson - Borovansky Ballet

Costume Designer

Phyllis Danaher
Wardrobe Mistress: Elizabeth Proud

Scenic Designer

Lexie Kunze

Lighting Designer

J. Stuart-Reed;John Strudwick in Roma

Musical Director

Cyril Martin and Charles Leonard

Music

Peter Tchaikovsky, Johann Strauss
Cast
Lexie Kunze
Kenneth Tillson
Meryl Hughes
Kay Egerton
Rodney Nation
Elaine Wilkinson
Verilyn Anderson
Jill Rodwell
Cheryl Tueslay
Jennifer Smith
Angela Brooks
Margaret Ross
Geraldine Turner
Austin Parry
Franklyn Evans
Robert Barlow
Cheryl Watson
Robyn Allum
Annette Cadman
Kay Crawford
Janice Holden
Desley Hammond
June Kiss
Diana Langan
Katherine Ovsiannikoff
Jan Whitelaw
Shandra Walker
Judith Lowe
Judith Clark
Donald Saunders
Geoffrey Rolls
Don Lee
Denize Dederer
Narelle Cooper
Val Welch
Carolyn Bretnall
Jeanette Egerton
Peter Atkinson
Peter Wickham
Ken McCaffrey
Des Webster
Angela Bretnall
Nicole Binzer
Vicki Sparks
Rosemary Grieves
Heidy Vogus
Suzanne Smith
Judy Deering
Julia Cossins
Margaret Sullivan
Helen Murray
Sonia Fields
Wendy Ross
Ann Poppleston
Roslyn Lindner
John Corazzol
Bridie Cornes
Julia Norris
Melissa Bretnall
Marion Wilkinson
Vicki Flannagan
Judy Zetlin