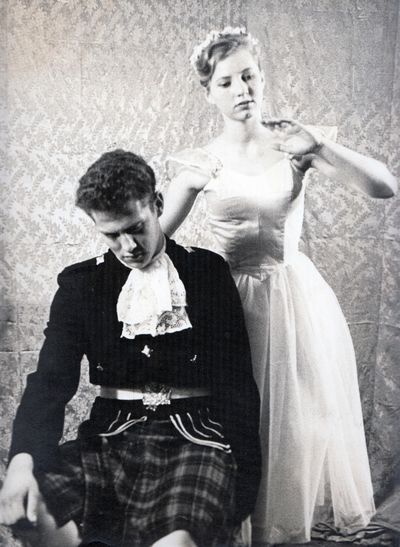 Brisbane Season: Rigoletto, Graduation Ball, Variations
September 10th, 1965 — September 12th, 1965
SURPRISE IN BALLET TALENT
Review in The Courier-Mail, 12 September 1965
Miss Phyllis Danaher, producer for the Ballet Theatre of Queensland, usually succeeds in reaching high standards, and in introducing the elements of novelty and surprise.
Last night's performance at the Rialto Theatre was no exception. Perhaps the greatest surprise of the evening was the astonishing richness of youthful talent revealed in the pleasant abstractions, and Greek patterns, of Caesar Franck's "Symphonic Variations".
Barbara Everson, Desley Hammond, Judy Lowe, Dayne Cory, Donald Kingston and Dennis Young were outstanding. Miss Danaher's choreography in this ballet is extremely interesting, and the final tableau is masterly, both in conception and execution.
Miming good
In the ballet based on Verdi's opera "Rigoletto" the classic style of miming was used to excellent effect, particularly by Dayne Cory in the title role. Guest artist Lexie Kunze, in the poignant role of Gilda, was enchanting.
Ronald Lindner, in a brilliant solo, effectively expressed the anger and vanity of the unpleasant Duke. Jean McEwan, as Maddalena, made a pleasing impression, and the court ladies in their gaily coloured costumes danced with appropriate elegance.
The third ballet was "Graduation Ball". Dayne Cory as the demure but light-footed Headmistress (a role always taken by a male dancer), and Ronald Lindner as the General, made the comic "Flirtation Mazurka" a highlight.
Laurel Eastment and Dennis Young danced poetically in the romantic interlude, "The Sylphide and the Scotsman".
Comedy Flair
Michele Carter revealed a flair for comedy in her "Impromptu". Julie Roberts and Judy Lowe showed remarkable virtuosity in their performance of multiple fouettes, in the "Dance Competition".
Youthful merriment and restlessness were amusingly expressed in "Perpetuum Mobile", danced by Donald Kingston, Desley Hammond, Leanne Kluskie, Robyn Feeney and Katherine Ovsiannikoff.
The programme will be repeated today, at matinee and evening performances.
Courtesy Judith and Wendy Lowe
Credits
Venue

Rialto Theatre, Brisbane

Artistic Director

Phyllis Danaher

Production Director

Phyllis Danaher

Choreographer

Phyllis Danaher
David Lichine

Guest Artists

Lexie Kunze
Ronald Lindner
Donald Kingston

Costume Designer

Phyllis Danaher
Wardrobe Mistress: Elizabeth Proud

Scenic Designer

John Rodgers
Anthony Holloway

Musical Director

Charles Leonard & Cyril Martin

Music

Giuseppe Verdi, Cesar Frank, Johann Strauss
Cast
Lexie Kunze
Ronald Lindner
Donald Kingston
Dayne Cory
Barbara Everson
Desley Hammond
Judy Lowe
Dennis Young
Jean McEwan
Michael Bell
Don Lee
Laurel Eastment
Michele Carter
Julie Roberts
Leanne Kluskie
Robyn Feeney
Katherine Ovsiannikoff
Ken McCaffrey
Arthur Marshman
Philip Trail
Jennifer Smyth
Ray Smyth
Anne Lundquist
Angela Bretnall
Christine Matherson
Cheryl Watson
Len Gordon
Hugh Milne
M. Barker
J. Irwin
E. Roberts
E. Thomas
G. Wagner
F. Baldock
P. Horton
P. Charlton
D. Devlin
K. Ditchfield
H. Milne
G. Tait
Image Gallery
Have any photos to share? Contribute here