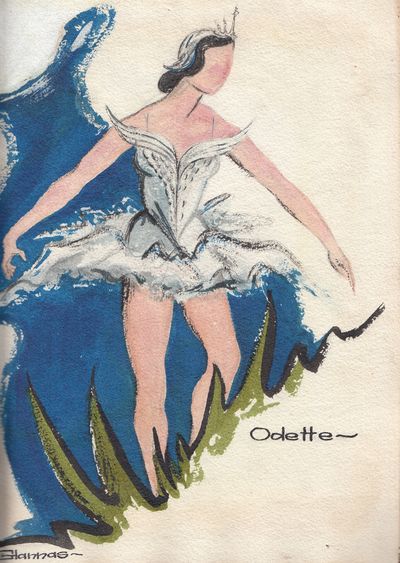 Brisbane Ballet Theatre: Swan Lake Act 2, Coppelia Act 3, Valse de Fleurs, Pas de Trois
March 15th, 1955 — March 15th, 1955
A WATERSHED YEAR
1955 was a watershed year of progress and change: the Queensland branch of The Australasian Society of Operatic Dancing became the Queensland Ballet Society in late March; Edouard Borovansky was appointed Patron; and membership was now open to all, no longer restricted to those who had passed a major RAD exam. From this year on membership grew, more ballets were presented, and more students were accepted into recognised ballet companies.
In this year, the organisation gave its first ever complete production at the Brisbane City Hall, drawing its demanding repertoire from classical ballet favourites. Here is who Arts critic Roger Covell received this full program of ballet.
AMBITIOUS WORK - Ballet takes a step forward
Review by Roger Covell
Brisbane Ballet Theatre took a definite step forward with its ambitious programme in the City Hall last night.
Much hard work had gone, no doubt, into the presentation of Swan Lake Act 2, Coppelia Act 3, and shorter excerpts from Swan Lake and The Sleeping Beauty.
Much more work was needed, of course, to present these works in a really satisfactory manner; but that is something possible only to a professional company.
Last night there was enthusiasm, conscientious performance, and careful attention to such important details as exits, entrances and curtain calls.
Caught the eye
Audrey Brotherton was a reasonably confident, if rather mechanical Swan Queen. She was well partnered by Cyril Johns, who was also responsible for reproducing the evening's ballets.
Others to take the eye included Peter Pertnikovs, the four Cygnets, Lynley Lewis, Shirley McMahon and Glen Ole.
Fine costumes
The excellent costumes, designed by Greg Hannas and Phyllis Danaher, were responsible for much of the effectiveness of the productions.
Above all, the company was blessed in having a small but efficient orchestra to accompany it, under the direction of Tony Sorgato and led by George White.
Happily, this combined endeavour was rewarded with a near capacity audience.
The Courier-Mail, 16 March 1955
Researcher and writer: Dr Christine Comans
Credits
Artistic Director

Cyril Johns

Production Director

Cyril Johns

Choreographer

'Swan Lake' Act 2 Lev Ivanoff reproduced by Cyril Johns
'Coppelia' Act 3 Marius Petipa, Nicholas Sergussff reproduced by Cyril Johns
'Valse de Fleur' & 'Pas de Trois' Marius Petipa reproduced by Cyril Johns

Costume Designer

Phyllis Danaher - 'Valse de Fleur' & 'Pas de Trois'
Greg Hannas - 'Coppelia' Act 3 & 'Swan Lake' Act 2

Musical Director

Ballet Theatre Ensemble conducted by Tony Sorgato with Orchestra Leader George White

Music

Tchaikovsky, Delibes

President

Brenda McCollough
Cast
Cyril Johns
Audrey Brotherton
Rhondda Stewart
Linley Lewis
Shirley McMahon
Joan Cherry
Zella Whimp
Peter Pertnikovs
Keith Cornwall
Flora Hetherington
Ted Seipel
Glen Ole
Meryl Hughes
Caroline Yule
Ray Dwyer
Maree Mollenhagen
Pam McNamara
Joyce Blackburn
Pam Brewster
Joan Seeman
Felicity Meyers
Esme Groom
Felicity Meyers
Esme Groom
Joyce Johnson
June Dutton
Faye Marlow
Gene Mogg
Jill Moodie
Judith Watkins
K. Thomas
V. Keag
H. Collins
J. Carlson
P. Marony
K. Anderson
J. Shannon
A. Bemrose
P. Cummings
Miss Howes
Miss Shields
Miss Farlow
Miss Elliot
Miss Carlson
Miss Baker
Miss Ruckett
Miss Dufficy
Miss Teitzel
Image Gallery
Have any photos to share? Contribute here