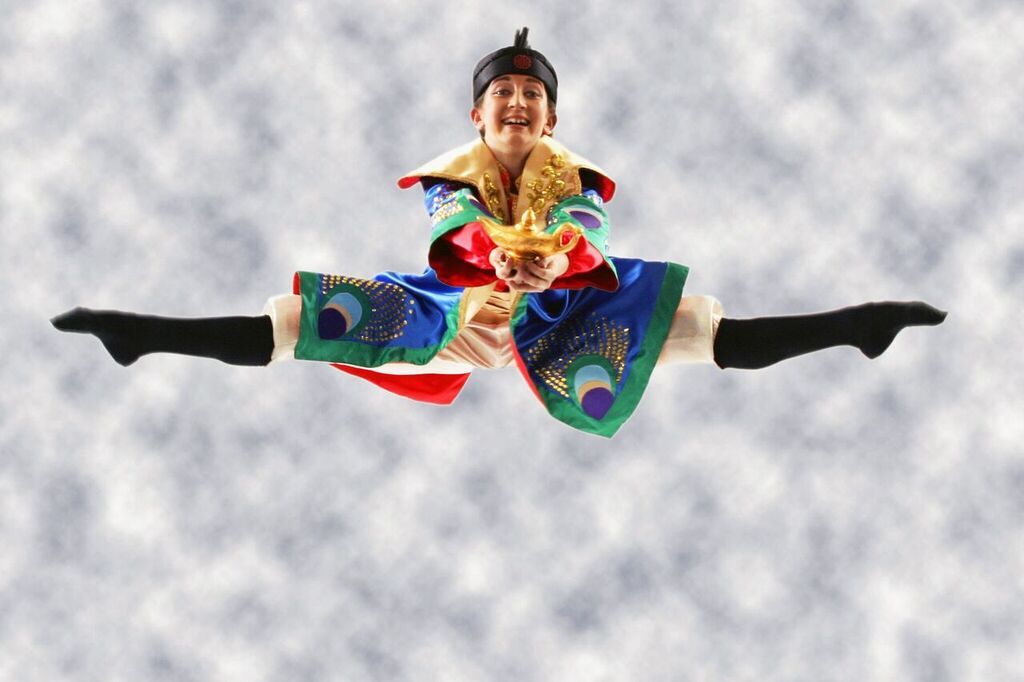 Aladdin
January 14th, 2004 — January 17th, 2004
WISHES COME TRUE
Review by Olivia Stewart
What Ballet Theatre of Queensland achieves year in year out without receiving any funding is quite remarkable. Its productions are a tribute to creativity, professionalism and hard work. Incorporating children through to young adults, the company has developed a successful formula that can delight both wide-eyed littlies and seen-a-lot grown-ups.
In Aladdin, despite a slow start, the Ballet Theatre trademarks again work to advantage. The well-credentialed and talented artistic team – choreographing artistic directors Trevor Green, Boris Bivona and Jodie-Anne White, and designer Max Hurley – certainly have got delivering colour and movement down pat.
Technically the calibre of the dancing is strong, with QUT and Australian Dance Performance Institute students featuring as soloists.
In showcasing their attributes, the choreography enables us to earmark rising talents among the older performers, as well as chuckling at cute antics from the tiniest members.
And there could not be a better visual showcase for the movement and dancers than the colour provided by Hurley's vibrant costumes (145 of them) and sets.
The company's casts might change over the years, but Hurley's flair remains a lodestar. More than any other element with a BTQ show, I look forward to his classy, imaginative and beautifully detailed designs.
Aladdin's exotic theme (here set in China in keeping with the original Arabian Night's story) allows Hurley to go to town with vivid satins, robes and motifs, and dramatic set pieces. Dragon themes feature repeatedly, most spectacularly in the image of the Cave of Jewels and its mouth. There are also more delicate, diaphanous touches, displayed by the kimonoed Princess So-Shy (Aladdin's love interest) and her pink ladies with matching parasols.
While the basic story of Aladdin being granted three wishes by a genie appearing form a magic lamp is familiar, those au fait with the Disney version will find this somewhat different in the details (as is often the case).
Although the drabness of the establishing scenes introducing the lazy Aladdin at home and his hard working mother and fellow washer-women is appropriate in tone, they're drawn out. Once Aladdin arrives at the Cave of Jewels, the mood and energy are transformed with the magic.
From there the production remains buoyantly captivating and charming, culminating in a lively pageant at the palace featuring acrobats, gypsies, ribbon and fan dancers and a simple yet gorgeously effective canon sequence of umbrellas opening and closing like a garden of blooming flowers.
With her neat, sharp technique and amiable personality, 13 year old Molly Henderson is an appealing Aladdin, while QUT's Tamara Zurvas also impresses as Aladdin's mother.
In her solo representing Lapis in the cave, Kirri Webb shines with her fluid flexibility, while Emily Harrison's amplitude is arresting.
It's also terrific to see strong performances among the boys, young Brendan Galine showing great promise as Aladdin's best friend Wishee Washee, and Leigh Workman adding acrobatic excitement to his portrayal of the Genie.
The Courier Mail, 15 January 2004
Credits
Venue

Optus Playhouse, Brisbane

Artistic Director

Jodie-Anne White & Boris Bivona

Choreographer

Jodie-Anne White, Boris Bivona & Trevor Green

Guest Artists

Mike Kurylewski

Costume Designer

Max Hurley

Scenic Designer

Max Hurley

Music

Music Arrangement by Peter Sullivan
Cast
Mike Kurylewski
Emma Baynes
Stephanie Pokoj
Shae Wright
Jessica Kloster
Molly Henderson
Tamara Zurvas
Kirri Webb
Brendan Galine
Greg Logan
Leigh Workman
Ingrid Cameron
Maggie O'Brien
Emily Harrison
Sashi Bridge
Jayden Biddle
Felicity Beresford
Stephanie Meredith
Emily Harrison
Lianne Goodwin
Michaela Ray
Madeline Bliss
Kieran Logan
Joe Stewart
Alex Sultan
Maughan Jemesen
Libbi Swan
Maggie O'Brien
Jessica Jadezak
Tiffany Allen
Katherine Ash
Kaila Biddle
Yvette Sauvage
Lachlan Geraghty
Amelia Ceslis
Shannon Jeanes
Stephanie Logan
Alex Armstrong
Margo Furness
Hanna Platt
Hilary Vargas
Bianca Watts
Kate Finlayson
Elizabeth Sippel
Louise Robb
Image Gallery
Have any photos to share? Contribute here