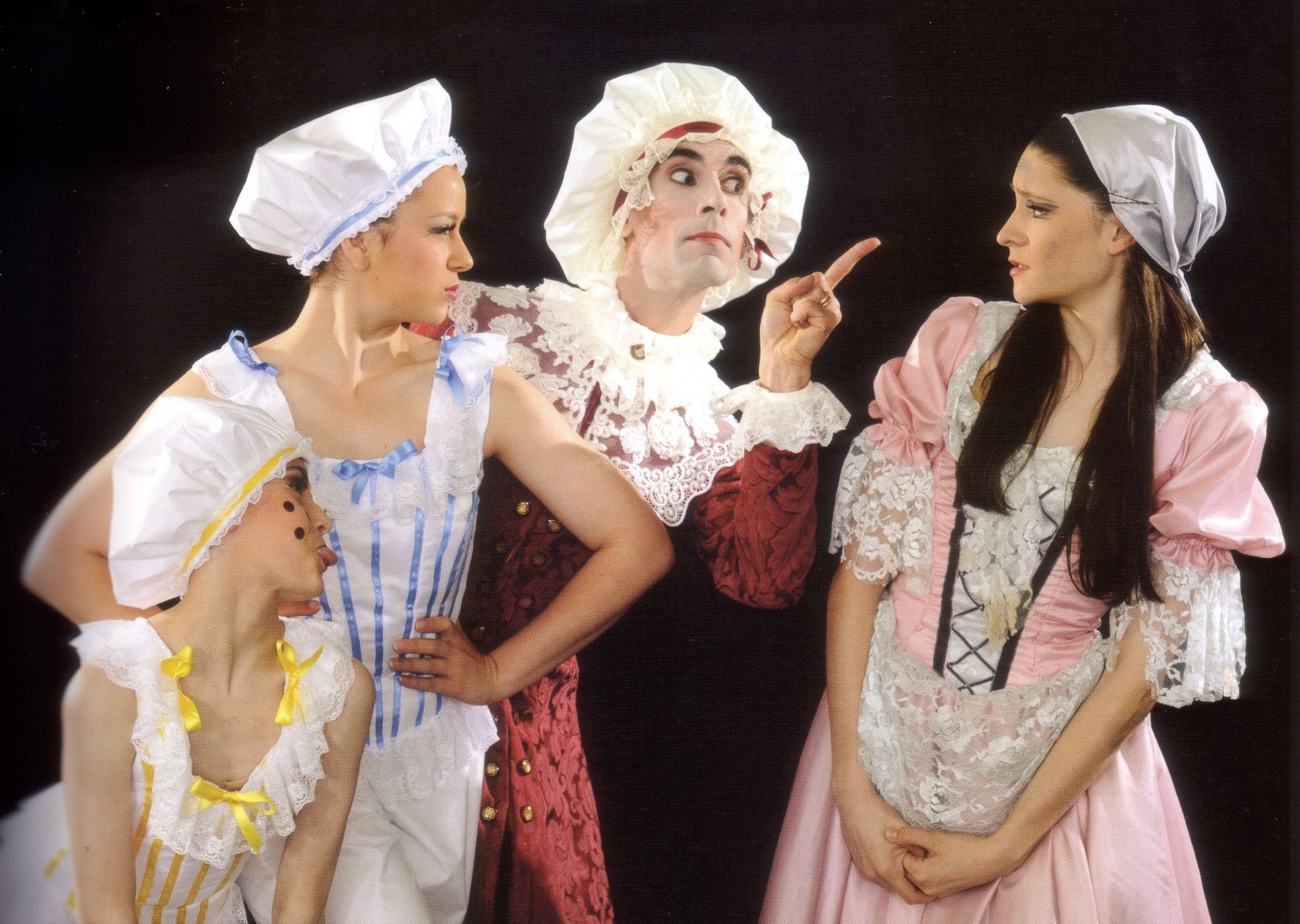 BTQ's 75th Anniversary: Cinderella
January 18th, 2012 — January 21st, 2012
75th ANNIVERSARY CELEBRATIONS
The 75th Anniversary was celebrated with this delightful production of Cinderella. To heighten the celebrations there were guest appearances by professional dancers Aeden Pittendreigh and former BTQ members Lily Spencer and Nathan Mannis. There was also an Opening Night pre-performance party organised by Leah Radford that featured a power-point presentation of photographs from the last 75 years. The invitees represented those who had made significant contributions to BTQ's long history.
The Cinderella program paid tribute to the last 75 years with a two page spread of anniversary photographs (see Images Gallery below) and the following text:
"For 75 years Ballet Theatre of Queensland has provided performance and dance opportunities to the youth of Queensland and has the distinction of being the oldest classical dance company in Australia. From humble beginnings in 1937, Phyllis Danaher MBE FRAD began BTQ with a dream of providing dance and performance opportunities to young Queensland dancers.
Every year young dancers from around Brisbane and south-east Queensland would vie for positions in the company's annual production, a tradition which continues today. For these young performers, BTQ provided the exceptional and fairly unique opportunity to rehearse and perform with a professional dance company.
Ballet Theatre of Queensland strives to nurture young dance talent and develop an appreciation of ballet amongst younger audiences. Celebrated for its performances of classic children's tales, BTQ continues to operate as a not-for-profit organisation run largely by volunteer parents whose contributions range from costume and set construction to making cups of tea for the volunteers.
In her later years Phyllis Danaher was recognised for her contribution to dance as a Fellow of the Royal Academy of Dance, and was also awarded a Member of the British Empire for services to dance in Queensland.
Looking back on 75 years of history, we are proud of what we have accomplished during that time, and of the wonderful opportunities we continue to provide dancers, and the performing arts in Queensland."
Researcher and writer: Dr Christine Comans
Sources: 2011/2012 AGM President's Report; Cinderella program.
Credits
Artistic Director

Jodie-Anne White and Boris Bivona

Choreographer

Jodie-Anne White and Boris Bivona

Guest Artists

Aeden Pittendreigh
Lily Spencer
Nathan Mennis
Boris Bivona

Costume Designer

Carmel Wenck

Scenic Designer

Marloes Bakker-Marsden
Cast
Aeden Pittendreigh
Lily Spencer
Nathan Mennis
Boris Bivona
Evie Rogerson
Alicia Townsend
Ruby-Ray Bain
Ebony Rice
Amy Radford
Katya Bennett-Woodger
Amelia Townsend
Chloe Powell
Tia Borg
Emma Voevodin
Amelia Platz
Ted Cooper
Abbey Price
Abby McTaggart
Alexandra Cramer
Amelia Fisher
Anna Hall
Anna Schultz
Annabelle Morton
Anthea Jones
Brianna Bastiana
Bronte Boland
Chloe Keneally
Claire McFarlane
Claudia Bell
Claudia Conley
Daisy Hicks
Ella Rittson Edwards
Emma Whitefield
Freya Campbell
Georgia Green
Grace Radford
Holly Jones
Imogen Clark
Jamie Delmonte
Jessie Kalayzich
Katelyn Starie
Kayla Gell
Keely Lynch
Kirstie Harrison
Lauren Bell
Lilly Eastenbrook
Lily Smith
Lucy Christodoulou
Lucy Powell
Madeline Powell
Madia Whiteley
Makayla Martin
Molly Foort
Olivia Collins
Paris Jones
Sophie Ginnivan
Stephanie Rabe
Sydney Merrilees
Tahl Kean
Tamara-Rose Mellish
Tia Borg
Tom Stewart
Xanthe Keneally
Zoe Doonar
Zoe Schofield
Zoe Godd
Image Gallery
Have any photos to share? Contribute here