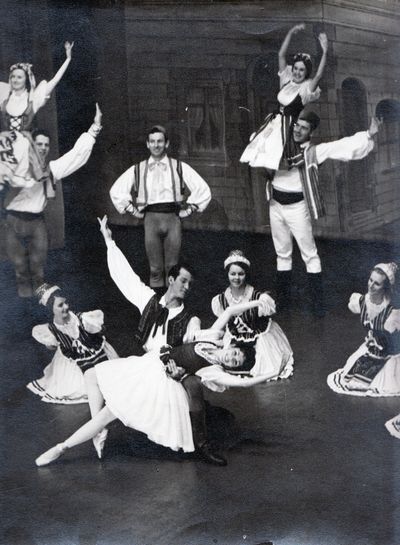 Season of Ballet: Les Patineurs, Coppelia, The Nutcracker, Graduation Ball
September 20th, 1967 — September 23rd, 1967
STYLISH BALLET THEATRE
Review of 'Les Patineurs' and 'Coppelia' by Constance Cummins
Dancing "dolls" and nimble "skaters" provided some entrancing spectacles when Ballet Theatre of Queensland last night presented "Les Patineurs" and "Coppelia" at Her Majesty's.
Under the capable direction of Phyllis Danaher both ballets were danced with pleasing verve, and the style of production would have done credit to any professional company.
For the large audience it was an evening of delightfully gay entertainment, and also a welcome chance to see how our young dancers are progressing.
In "Coppelia" the medieval village setting in the opening scene was particularly well constructed while good lighting effects gave the workshop of Dr Coppelia a mysterious glow.
Expressive
Desley Hammond's interpretation of the fun-loving Swanilda was as vivid and striking as her scarlet and white costume. Her miming was intensely expressive and in her dancing she showed good balance and line. But unfortunately the famous doll-dance was somewhat marred by the overpowering loudness of the recorded music.
Dayne Cory as engaging gnomelike figure as Dr Coppelia, gave a noteworthy portrayal of the eccentric toymaker.
As the fickle young rascal Franz, Mal Czislowski impressed by the suppleness of his movements, and his distinct flair for comedy.
The high-spirited leaders of the peasant dancers, Michelle carter and Peter Lucas made the mazurka exciting to watch.
Illusion
In "Les Partineurs" the snowy scene, the exhilarating music of Meyerbeer, and the Victorian capes and bonnets worn by the girls helped to create an enchanting effect.
The illusion that we were watching skaters try out their varying degrees of skill on a frozen lake was well sustained by the dancers.
As "The Girl in White", Judy Lowe showed great poise and musicality and gave a poetical quality to her variation.
Barbara Everson and Judy Casey were decorative and amusing, and performed the "arabesque glide" very successfully.
As the "Boy in Blue" Dennis Young danced with fine elevation and buoyancy tgough at times his arm movements tended to be jerky. His concluding series of pirouettes a la seconde made an effective finale.
The ballet season will continue till Saturday night.
The Courier Mail, September 1967
Credits
Venue

Her Majesty's Theatre, Brisbane
Les Patineurs & Coppelia Sept 20 & 21
The Nutcracker & Graduation Ball Sept 22 & 23

Artistic Director

Phyllis Danaher

Production Director

Phyllis Danaher

Costume Designer

Leslie Peterkins
Wardrobe Mistress: Elizabeth Proud

Scenic Designer

Leslie Peterkins
Ken McCaffrey
John Rodgers

Music

Giacomo Meyerbeer, Leo Delibes
Cast
Desley Hammond
Dayne Cory
Donald Kingston
Dennis Young
Mal Czislowski
Robyn Feeney
April Perkins
Judith Casey
Judy Lowe
Arthur Marshman
Michelle Carter
Judy Drynan
Laurel Eastment
Patricia Whittaker
Daryl Gantner
Peter Lucas
Barbara Everson
Eric Hauff
Ray Smith
Rodney Thompson
Glen Tait
Hugh Milne
Wendy Lowe
Nadine Warfield
Jean McEwan
Sandra Baldock
Julie Roberts
Jenny Smyth
Patricia Tommassi
Glen Tait
Ray Smyth
Phillip Trail
Pat Whitaker
V. Commer
C. Cross
J. Davies
E. Henderson
P. Hill
J. de Koning
A. Lindquist
J. Rousell
M. Mulhall
L. Tait
G. Wagner
Image Gallery
Have any photos to share? Contribute here