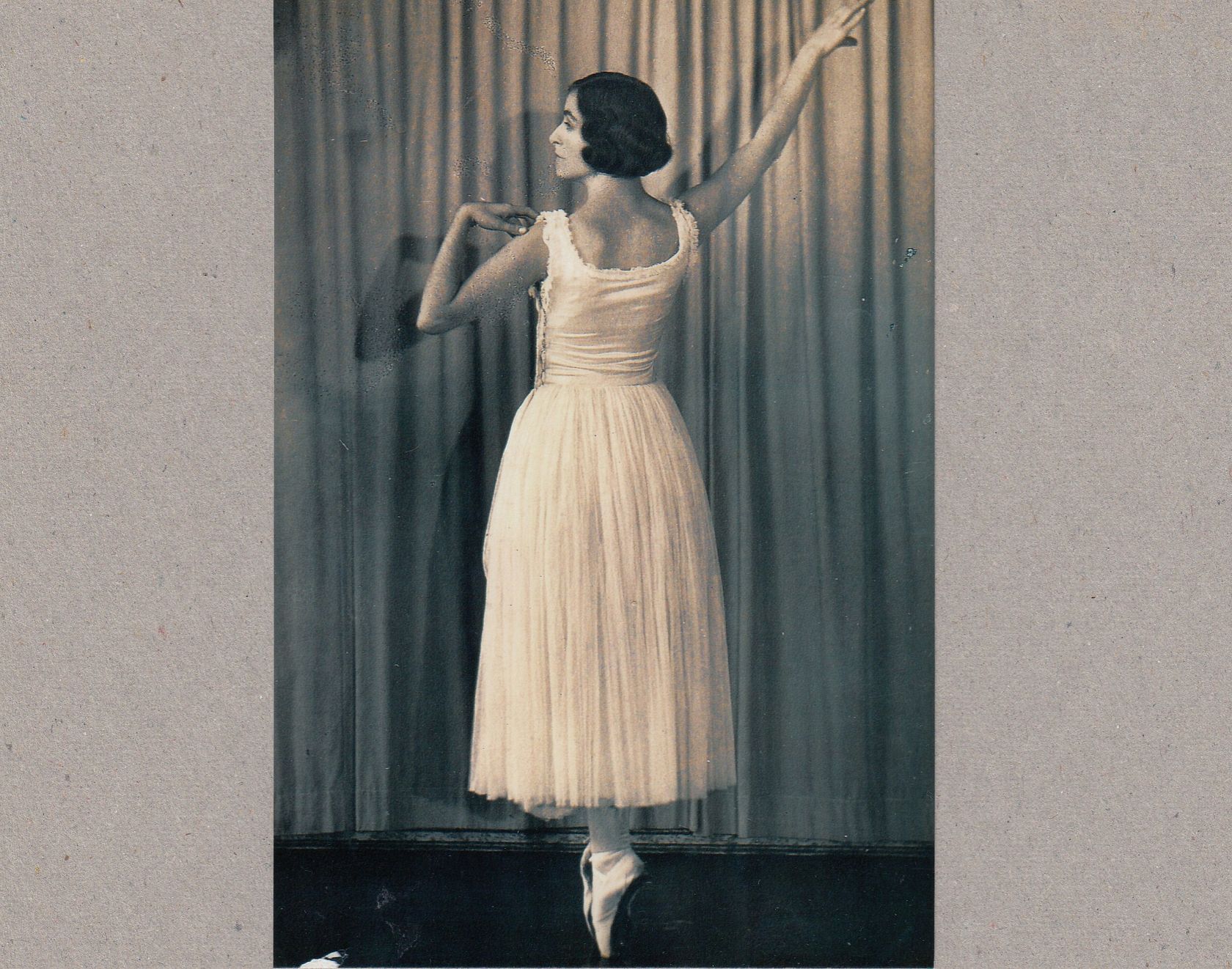 Founder - Miss Phyllis Danaher M.B.E., F.R.A.D.
At BTQ's Ballet Gala in 1987, celebrating 50 years of activity, Phyllis Danaher was honoured for her extraordinary and sustained contribution to this organisation and to classical ballet generally in Queensland. The following tribute was printed in the Ballet Gala program. If you read on, there are several more articles that outline Miss Danaher's contribution in greater detail and in different ways.
Ballet Gala Tribute, 1987
It is generally conceded that Phyllis Danaher has done more for classical ballet in Queensland than any other person, and her name is known throughout Australian dance circles. Two of her best known students are Garth Welch, Australia's finest male dancer, who is at present Dean of Dance at the Victorian College of the Arts, and former prima ballerina of The Australian Ballet, Lucette Aldous. Other dancers who have trained with her include Mark Brinkley, a senior soloist with The Australian Ballet and Roslyn Anderson, a principal with the Netherlands Dans Theatre. For over fifty years Miss Danaher conducted her own school of ballet and became the first Queensland teacher to gain the Advanced Teacher's Certificate. In 1957 she was made a Children's Examiner for the Royal Academy of Dancing, London and travelled extensively examining dancers.
A Foundation and Life Member of Ballet Theatre, she is an outstanding choreographer having created ballets such as The Stone Flower, Snow Maiden, Pinocchio, The Willow Pattern, Symphonic Variations, The Wasps, Masquerade and The Legend of Roksanda. Miss Danaher was awarded the M.B.E. thereby becoming the first Queenslander to be so honoured for outstanding services to dance. Recently Dame Margot Fonteyn de Arias, D.B.E., President of the Royal Academy of Dancing, conferred on Miss Danaher the highest honour of the academy – The Fellowship of the Royal Academy of Dancing – for her outstanding contribution to dance, thereby making her one of only a few people to be so honoured. Although now retired Miss Danaher is always available to encourage and assist any young dancers to develop their art. Ballet Theatre humbly dedicates this production of The Nutcracker to Miss Danaher as a tribute to the outstanding and tireless dedication she has given to the company over the last fifty years.
Phyllis May Danaher (1908–1991)
by Joanne Scott in The Australian Dictionary of Biography
Phyllis May Danaher (1908-1991), ballet teacher and examiner, was born on 27 July 1908 at Bulimba, Brisbane, eldest of four children and only daughter of Queensland-born parents William Patrick Danaher, clerk and later prominent bookmaker, and his wife Ivy May, née Bagnall. Educated at St Margaret's Church of England Girls' School, Ascot, Phyllis began her dance training in the early 1920s with Margaret St Ledger, who taught fancy and ballroom dancing, and deportment. From 1927 she studied with, and (initially without pay) taught for, Marjorie Hollinshed, who had taken over St Ledger's school. She also studied dance with Frances Scully in Sydney.
Danaher was an extra in the Brisbane performances of the Pavlova company during its 1929 tour and she appeared in J. C. Williamson's musicals in Brisbane in the 1930s. She co-owned Hollinshed's school from 1930. After Hollinshed's retirement, she became principal of the school, at first in partnership with Judith Avery (1933), then with Clare O'Bryen (1934-47); subsequently, she was sole owner of the Phyllis Danaher School of Ballet. In 1935 she gained her elementary certificate in the first Royal Academy of Dancing (RAD) examinations held in Australia, and two years later secured the RAD advanced teacher's certificate.
In 1937 Danaher became the first deputy organiser for Queensland of the advisory committee to the RAD, as well as founding president of the Queensland branch of the Australasian Society of Operatic Dancing, later the Queensland Ballet Society. In 1953 the society established the Brisbane Ballet Theatre to provide local students with professional-standard performance opportunities. From 1956 Danaher was recognised as its regisseur (stage director). She choreographed the company's first original work, The Wasps performed in 1956 at Brisbane City Hall, followed by Variations Symphoniques (first performed 1957), The Legend of Roksanda (1959), and The Willow Pattern (1962). The company was renamed Ballet Theatre of Queensland (BTQ) in 1963 with Danaher as its director; that year she choreographed Pinocchio and Italienne Fantasia. Danaher produced and directed ballets for BTQ from the 1960s to the early 1980s, and also designed costumes for the company. She produced Graduation Ball in 1970 for the North Queensland Ballet's opening season.
Danaher had become a children's examiner for the RAD in 1957, a role she maintained until her retirement from teaching in 1982. Two years later she stepped down as BTQ's director. She was appointed MBE (1969) for services to dance and made a fellow of the RAD (1983) in recognition of her service to the academy.
One of Queensland's most important ballet teachers, Danaher was a pioneer in the professionalisation of ballet learning and teaching in the State. Her students included Garth Welch and Lucette Aldous, later principal artists with the Australian Ballet. She played a major role in helping talented students realise their potential, a legacy that continues through the BTQ. Hollinshed, who described Danaher as 'one of Australia's greatest dancing teachers,' concluded that 'Phyl has devoted her life' to ballet. Recalling 'a grace and softness about her movements,' Hollinshed remembered that as a young teacher she had spoken in 'almost a whisper,' not 'at all like the later Miss Phyllis Danaher, M.B.E., F.R.A.D.' (Hollinshed 1987, 39, 55, 114). Danaher overcame her early shyness, with her students remembering her as a strict disciplinarian and a 'no-nonsense' teacher (Koch, 34). Unmarried, she died on 31 May 1991 at Clayfield, Brisbane, and was buried at Lutwyche cemetery with Catholic rites. The Phyllis Danaher memorial scholarship is awarded annually to a BTQ dancer.
Select Bibliography
Ballet and dance-Ballet Theatre of Queensland, formerly Queensland Ballet Society: ephemera material collected by the State Library of Queensland
Brissenden, Alan, and Keith Glennon. Australia Dances: Creating Australian Dance 1945-1965. Kent Town, SA: Wakefield Press, 2010
Hollinshed, Marjorie. Some Professional Dancers of, or from, Queensland and Some Teachers of the Past and Present. Brisbane: W. R. Smith & Paterson Pty Ltd, 1963
Hollinshed, Marjorie. In Search of Ballet. Caloundra, Qld: Boolarong Publications, 1987
Koch, Peta. 'Brisbane's No-Nonsense Teacher.' Dance Australia 33 (December 1987—January 1988): 34
Pask, Edward H. Ballet in Australia: The Second Act 1940-1980. Melbourne: Oxford University Press, 1982.
A Tribute to Phyllis Danaher
By Judith McCaffrey, Ken McCaffrey and Wendy Lowe
One of the best known phrases in the world of dance is – To dance is to live, to live is to dance.
This was true of our friend and mentor – Phyllis Danaher, MBE, FRAD.
For years, Miss Danaher, or Miss D. as she was affectionately known to us all, has held an honoured place among the pioneers of classical ballet not only in our own State of Queensland but throughout all States of Australia as well.
The amount of work she did and the knowledge she passed on to us all, both through her work with the Royal Academy of Dancing, and classical ballet and its production was outstanding. In fact it would be fair to say that Miss Danaher devoted her life to the development of ballet in Australia, serving students, teachers and the public.
Miss D. began dancing as a pupil of Margaret St. Ledger. She continued with Marjorie Hollinshed, when she took over Miss St.Ledger's pupils in 1925. At that time Miss D. was still a schoolgirl at St.Margaret's Clayfield. When Miss Hollinshed married in 1932, Miss D. took over the school. In 1969 Miss Danaher was awarded the MBE. It was the first such recognition to be given to a teacher of dancing in Queensland and was more than merited.
Miss Danaher retired from her examining duties of the RAD in 1982 and in 1983 was awarded a Fellowship for her outstanding work for the organisation. Miss D continued teaching until 1984/85 when she decided it was time to enjoy the fruits of her labours and for her to pass on the reins to others.
During those intervening years she taught many talented young dancers, who went on to international fame, the most outstanding being Garth Welch and Lucette Aldous. Garth for instance started dancing with Miss D when he was five and now 50 years later he is still dancing professionally thanks to Miss Danaher's careful and intelligent teaching.
But even in those early days she had a problem with remembering names?
Often she would mix people's names and so would just call out "You – STUPID!!" "Not you! – THE OTHER STUPID!" And so everyone moved as we all thought it was us.
Another story which comes to mind is of a young man about 13 years of age, who used to travel down from Nambour each week for lessons. Miss Danaher always enjoyed teaching "The Boys", as she fondly referred to those pioneering young men. She used to tear her hair out saying – "That Mark!! He's deaf, that boy. He can't hear the music!! He'll never make it as a dancer, never!!" Well that Mark is Mark Brinkley and he has been a leading soloist with the Australian Ballet for many years.
For those "wardrobe ladies" who worked with her over the years she was always thoughtful and amusing. Often the knife was missing and so Miss D would improvise by cutting up the sandwiches with scissors. I'm sure that Mrs Proud, Mrs Hansford, Mrs Ovsiannikoff, Mrs Svalbe, Mrs Lowe, Mrs Hetherington and Mrs Stanfield would have many tales to tell. I know for a fact that on one occasion in Lismore, Miss Danaher wanted the wardrobe ladies back at the theatre and so in her own inevitable way went across to the local pokies club and personally paged them over the public address with words such as "Would the Wardrobe Ladies from Ballet Theatre please return to the rehearsal IMMEDIATELY!", and so three sheepish ladies faced the music but fortunately did not dance.
Miss Danaher on one other occasion became a human fan!! Jack Rodgers, the then stage manager for Ballet Theatre recalls that in Gympie one year the local electrician failed to arrive to fix an electrical fault and so it was necessary to operate all the stage lights on just two power outlets with 14 double adapters. Miss D was assigned the job to fan them to prevent them catching on fire and so newspapers in hand Miss Danaher fanned them for the two and a half hours of the matinee performance, such was her devotion to getting the show on!!
One of the crowning achievements of her days with Ballet Theatre was the honour given to the company when after a season at the Rialto Theatre, the then Manager of Her Majesty's Theatre, George Pullen, invited Miss Danaher and Ballet Theatre to perform in Her Majesty's making it the first non-professional ballet company to dance in the theatre.
In 1987 Ballet Theatre honoured Miss Danaher and its Golden Jubilee with a dinner in the Windsor Ballroom at the Crest International Hotel, a Combined Teachers Recital, an Australian first "The Ballet Gala" in the Suncorp Theatre at which both professional and amateur companies from all over Australia and overseas took part.
A special season of the Russian masterpiece The Nutcracker was staged in the Gold Coast Entertainment Centre and also in the Suncorp Theatre. The Nutcracker was the ballet which Miss Danaher had taught to thousands of young dancers, some of whom in early productions were mice returned for the Golden Jubilee production to play "parents", just to say in a special way thank you to Miss Danaher for her guidance and caring over those many years.
We all know how difficult, if not impossible, it was to get Miss Danaher on stage after a performance for a curtain call but on the final night of that Nutcracker season we got Miss Danaher on stage and presented her with a mirage of presents and fortunately it was captured for us to treasure on video.
After the performance she remarked – "I feel like a Queen" and she was, and always will be, "Queen of Our Hearts".
And so on behalf of all "the stupids" Miss Danaher thank you. I think we were all one of "the stupids" at one time or another but one thing is certain that phrase will always have a very special place in our hearts and we will remember you with love and affection for giving us the joy of dance, the opportunity to learn from an inspiring teacher and above all enriching our lives as a wonderful caring friend.
Researcher: Dr Christine Comans
Image Gallery
Have any photos to share? Contribute here